Gluten Free Lemon Loaf: The Recipe From Dream to Reality!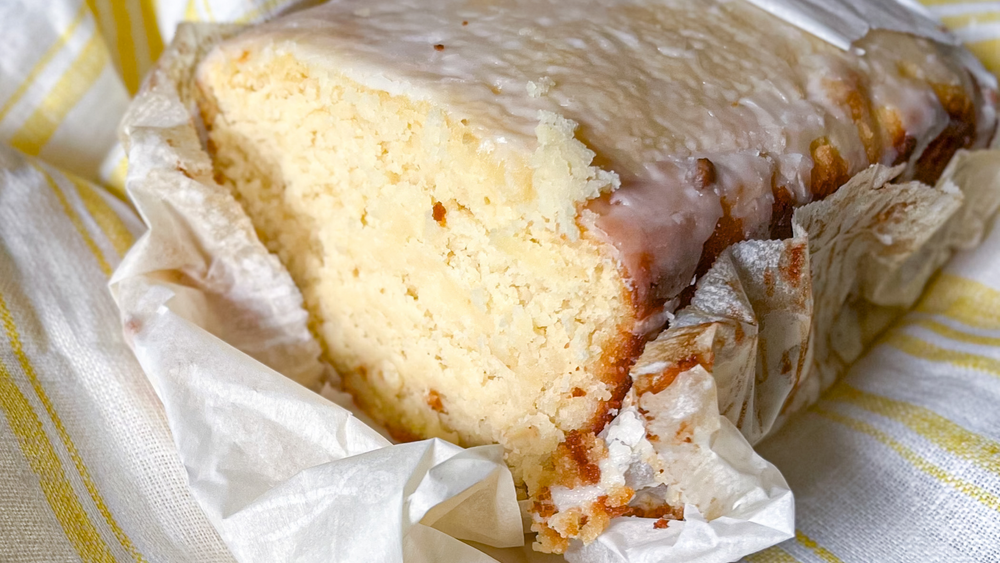 My 15yo daughter, Lyla, is an aspiring pastry chef & budding entrepreneur.  
She started her own business, Bean's Bakery, in 2021, and was shipping French pastries & other goodies across the country from the moment she opened her website.
In truth, she didn't just dip her toe into small business ownership….She was pushed right into the pool!  
She became so overwhelmed with orders that she decided to scale back & focus on selling curated sprinkle mixes while blogging about her own recipes.
Now she primarily bakes for fun.
It's certainly a HUGE bonus having a baker in the house.  
We love being able to try her treats, and especially benefit when she, a true perfectionist, deems a batch of something a failure.  Even her failures are tasty! 😋 
She recently made a Lemon Loaf.  
The recipe is gluten & dairy free, yet each slice is dense, moist & absolutely delicious with my morning coffee (& pairs pretty well with our (linen hand towels).  
I've included her recipe, and if you have a moment,  follow her on Instagram and check out the Bean's Bakery website for more recipes.
 ~~~
Gluten Free and Dairy Free Lemon Loaf Ingredients:
⁃ 1 1/4 cups coconut flour
⁃ 1/4 cup cornstarch
⁃ 2 teaspoons baking powder
⁃ 1/2 teaspoon salt
⁃ 1 tablespoon apple cider vinegar
⁃ 1 cup unsweetened almond milk (more if necessary)
⁃ 4 eggs
⁃ 1 cup sugar
⁃ 3 tablespoons of lemon juice ( fresh or bottled)
⁃ 1/2 cup melted coconut oil


Lemon Loaf Glaze:
⁃ 1 cup powdered sugar
⁃ 1 1/2 tablespoons lemon juice

Gluten Free and Dairy Free Lemon Loaf Steps:
1. Preheat oven to 350° Fahrenheit and line a 9 x 4 inch loaf pan with parchment.
2. In a bowl mix the dry ingredients ( coconut flour, cornstarch, baking powder, and salt) together and set aside.
3. In a larger bowl, mix together your wet ingredients (apple cider vinegar, unsweetened almond milk, eggs, lemon juice, and melted coconut oil) and the sugar.
4. Add the dry ingredients to the wet ingredients and mix well. You may need to add a few more tablespoons of almond milk if the consistency is too thick. The batter should be thick, but pourable.
5. Pour the batter into your prepared pan and bake for 1 hour. Test with a toothpick to see if it's done. If the toothpick doesn't come out clean, you may need to bake it for a few more minutes.
6. Let the loaf sit in the pan until cooled and then remove it from the pan to finish cooling.
7. Mix the powdered sugar and lemon juice into a nice glaze. If it's too thick, add a little more lemon juice until you get the right consistency. Pour the glaze over a completely cooled lemon loaf.
And, as Lyla would say, Stay Tasty! 💜 😋