The Ultimate Cinnamon Toast Recipe for Busy Mornings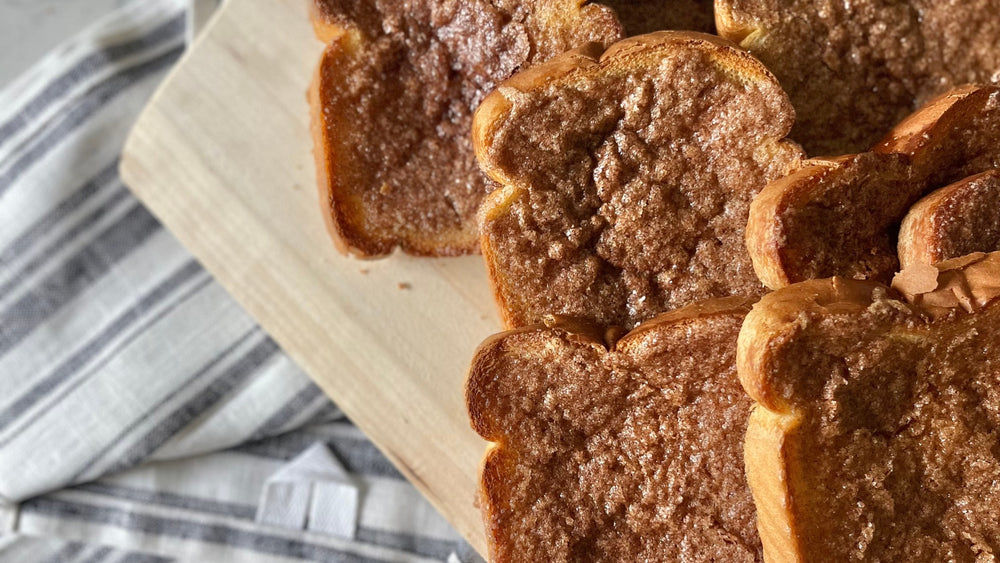 THIS POST MAY CONTAIN AFFILIATE LINKS FOR THE PRODUCTS WE RECOMMEND. IF YOU PURCHASE AFTER LEARNING ABOUT THESE IDEAS ON OUR SITE, WE MAY MAKE A SMALL COMMISSION. THANK YOU FOR YOUR SUPPORT!
Home Made Cinnamon Toast
I may not be the mom who whips up homemade brunch feasts on lazy Sunday mornings, but with seven hungry mouths to feed, simplicity and speed often reign supreme in my kitchen.
So, when my little ones request a mom-made breakfast, I turn to my trusty Cinnamon Toast recipe. Is there really a recipe needed for how to make cinnamon toast, you ask? Absolutely, if you want to make the best cinnamon toast, that is!
This cinnamon toast recipe is quick, it's delicious, and it keeps everyone satisfied. While my version of this classic breakfast favorite is inspired by the Pioneer Woman, I've made a few tweaks to suit my family's taste buds and our kitchen staples.
Growing up, I remember my parents using a bottle of ready made cinnamon and sugar. I loved that toast, but there's something completely different about making your own butter sugar cinnamon mixture. Are you ready to try this cinnamon toast recipe yourself? Let's get to making, shall we?
Cinnamon Toast Recipe
Total time is about 20 minutes give or take. One loaf of sliced bread serves our family of 7. This cinnamon toast recipe can be easily doubled of halved if you want to make a different amount.
Ingredients:
About 16 slices of white bread or your favorite bread (minus the ends unless you're into that)

2 sticks unsalted butter, softened

1 c. white sugar

3 tsp. ground cinnamon

2 tsp. almond extract (or vanilla extract, we prefer almond)
Directions:
Preheat oven to 350 f.

Let's make our own cinnamon sugar mixture! Smash softened butter with a fork in a small bowl or pie plate. Add in the next 3 ingredients and mix until completely combined.

Spread the butter mixture evenly on each piece of bread all the way to the edges.

Place slices on a baking sheet & into the oven to bake for 10 minutes.

Lastly, turn the broiler on high and put the toast under it for the last minute or two, or until the tops are golden brown and bubbly.  But, be careful not to burn! (Speaking from experience here.)

Remove the baking sheet from the oven and let the cinnamon toast cool slightly.

Cut the bread slices in halves diagonally place that beautiful pile of deep golden brown cinnamon toast on a platter.
Serve it up with plenty of napkins...you will have sticky fingers!  Enjoy & be sure to snag a slice for yourself bc it won't last long!
Optional Twists:
- Top with a dollop of whipped cream, a drizzle of honey, or a scoop of vanilla ice cream for an indulgent treat.
- Experiment with different bread varieties, wheat bread or brioche bread for added flavor.
Bonus:
-You may end up with a little extra sugar and cinnamon mixture. You can save this in the fridge for another use. I've even added it to my black coffee and was surprised at how yummy it was!
This is the perfect cinnamon toast recipe; and a true lifesaver for busy mornings. If you ask Pioneer Woman, there truly is a right and not-so-great way of making cinnamon toast. After trying her recipe years ago, I absolutely agree. Nothing beast eating cinnamon toast that is golden and has just the right amount of crunch to it while still being a bit soft in the middle.
It offers a taste of comfort and homey goodness without hours of kitchen labor (#momwin). It's a testament to the fact that you don't need elaborate spreads to make your family's day; sometimes, all it takes is a few simple ingredients and a dash of love!