Crowd-Pleasing Cinnamon Toast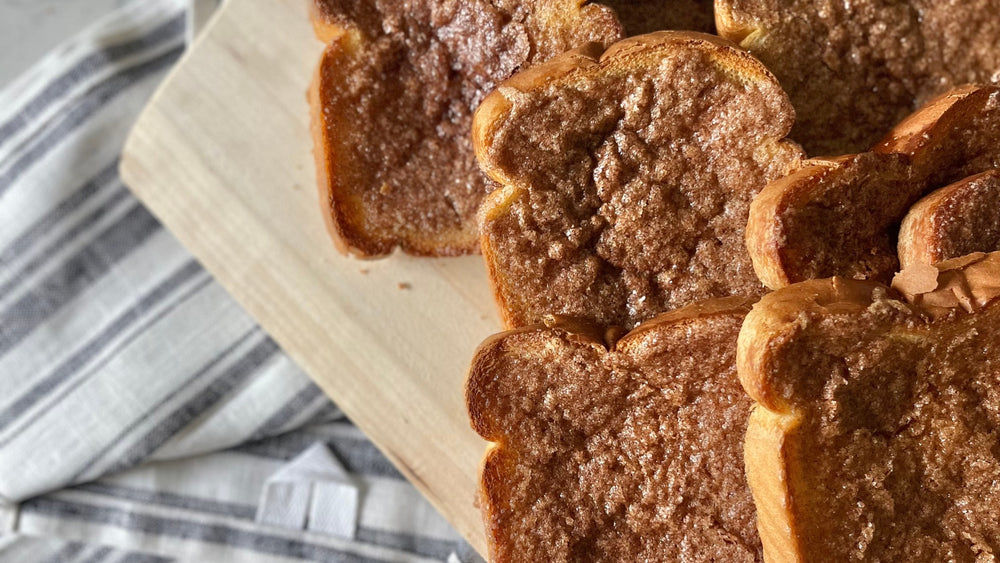 I'm not your homemade-big-breakfast-on-a-Sunday-morning kind of mom.  Sometimes I wish I were, but I have 7 mouths to feed and I prefer slow easy weekend mornings.
I do, however, make a mean Cinnamon Toast.  And, when the babes ask for it, I usually oblige.
The recipe is simple and essentially Pioneer Woman's with a couple of slight changes.  I think they call that 'inspired by', but let's give credit where credit is due.  My recipe is different only because of the ingredients we typically have on hand and the tastebuds of my brood. 😉
p.s. Our linen kitchen towels make clean up a cinch!
~~~~~
Loaf of white bread (minus the ends unless you're into that)
2 
sticks unsalted butter, softened
Preheat oven to 350 degrees.

Smash softened butter with a fork in a large bowl or pie plate. Add in the next 3 ingredients and mix until completely combined.

Spread the mixture on slices of bread covering edge to edge.

Place slices on a cookie sheet & into the oven to bake for 10 minutes. Broil on high for the last minute or so until the tops are golden brown and bubbly.  But, be careful not to burn!
Enjoy & be sure to snag a slice for yourself bc it won't last long!