Three March Birthday Party Ideas for Kids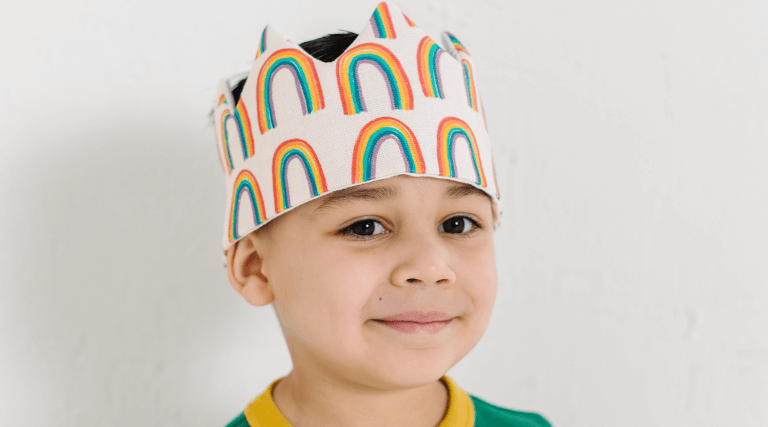 If you're looking to make the celebration of your child's birthday extra special this March, you've come to the right place. We always recommend a custom crown to make the birthday extra special, and with St. Patrick's Day and the first signs of spring in the air, a March party can be a magical way to celebrate your child's special day.
We've got plenty of March party ideas for decorations and activities to help you choose the perfect theme that will make your spring party a great time for both the birthday girl or boy and all their friends!
Party Ideas for March Birthdays
A great way to get started is by picking a fun spring birthday party theme for your little one. We've got inspiration for three fun March themed parties to help you get those creative ideas flowing.
St. Patrick's Day Kid Party Themes
For those who want to honor March and St. Patrick's Day, there are plenty fun of ideas to choose from - from a rainbow theme complete with pots of gold at the end of each table to a leprechaun-inspired event with lots of green, gold and purple décor and 'magically delicious' treats!
We love the Lucky Charms themed kids St. Patrick's Day party idea from Inspired by This. A perfect theme for children of all ages, guests will love this party inspired by those delicious marshmallows we all know and love.
Decorate with soft pastels and florals to truly celebrate the holidays and the beginning of spring in a fun (and yummy) way. Can we talk about that incredible cake?!?
Invite guests to dress in green or gold for the spring party. Add a rainbow birthday crown to help you celebrate a day your family will treasure. (See what we did there? 😉 🍀)
Animal Party Themes
If you prefer something more general, try an animal-themed party to celebrate the special day.
Finding the Lovely planned a sweet animal theme family party for her son's 6th birthday celebration. She decorated her home with soft blue balloons accented by neutral tones and backdrops she was able to create herself.
We love the simplicity of her spring decor and the thoughtful way she was able to incorporate her son's love for animals with easy to find decorations and cake toppers.
This theme is easy to customize for your animal lover by using a brighter color palette or focusing more on a trip to the zoo. This is such a cute party theme to celebrate boys and girls with a March birthday.
Spring Garden Party Ideas
One of our favorite creative & versatile March birthday party ideas is a spring Garden Party. Whether you are celebrating a first birthday or you want to host a fairy inspired party for girls, the options are limitless.
The dreamy inspiration in the photos from Story by Mia is perfect for creating a mood board to plan your own party themes.
Invite guests to celebrate in your backyard with a fun picnic. On a budget? Get creative with this spring party and let Mother Nature decorate for you by really focusing on the spring theme at a local park or arboretum.
How to Decorate for a March Celebration?
No matter what party theme you choose, don't forget about the decorations! A few simple but creative touches can go a long way in making your party feel festive, fresh and unique.
For example, if you're the host of an animal-themed bash, consider creating giant paper animals as wall decorations or using toy animals as centerpieces atop tables covered in colorful cloths.
And of course don't forget about balloons! They are always a hit with kids and can be customized based on your chosen party theme or colors. Create a balloon arch in the shape of a rainbow or use them as accents for all birthday party themes.
You could also make some green shamrocks or floral garlands out of construction paper or felt and hang them around the room for added festivity.
Dress up the tables with fresh flowers to really bring spring into your party themes.
Fun March Birthday Party Activities for All Kids
Of course, no good birthday party is complete without a host of fun activities for all the party guests.
Depending on the age of the birthday boy or girl is, try setting up some art projects like painting rainbows onto canvases or making garden markers out of popsicle sticks and markers.
If they're older kids, consider organizing some outdoor games like tag or hide-and-seek - just make sure everyone is dressed appropriately so they stay warm enough while still having fun!
What Food to Serve at your March Birthday Party?
Finally, what to eat? Bake some cupcakes or cookies that fit into your chosen theme (rainbow cupcakes anyone?) and set out snacks like chips and dip or fresh fruit kabobs that are easy enough for little hands to grab between activities.
Quick snacks that can be enjoyed by guests of every age are a win-win!
March Birthday Party Themes
Throwing a great March birthday bash doesn't have to be fancy or hard work - it just takes some creativity!
With our tips on March birthday themes, decorations, activities, and food your child will be guaranteed a perfect time that their friends won't soon forget.
Remember to pause and enjoy the day yourself too. These are truly moments to treasure!
So don't wait any longer - start planning today so you can throw the perfect March birthday party for your child and guests!