Where to Buy a Nursing Pillow Cover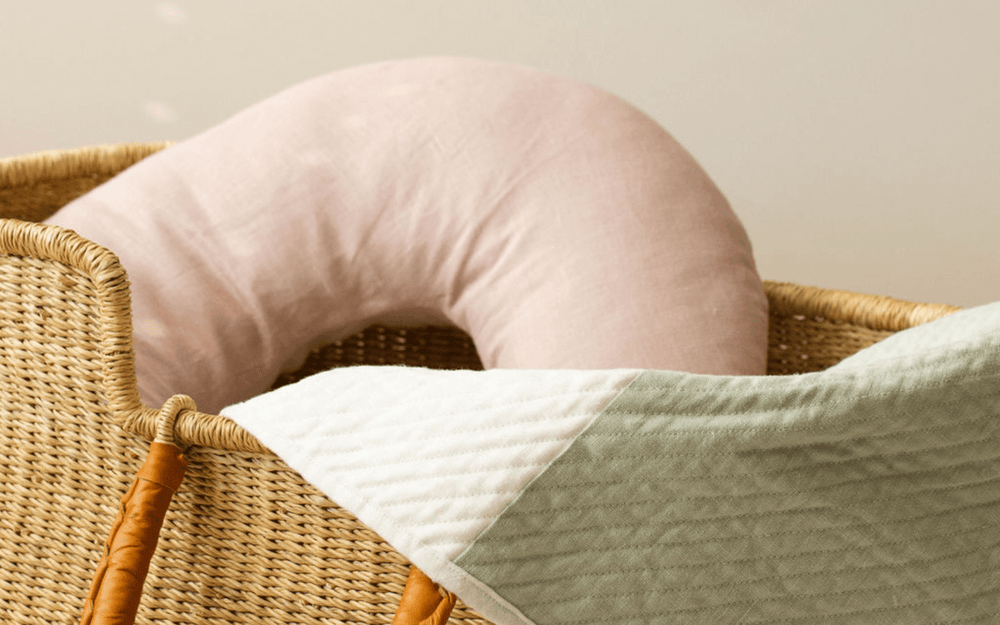 THIS ARTICLE MAY CONTAIN AFFILIATE LINKS FOR THE PRODUCTS WE RECOMMEND. IF YOU PURCHASE AFTER LEARNING ABOUT THESE IDEAS ON OUR SITE, WE MAY MAKE A SMALL COMMISSION. THANK YOU FOR YOUR SUPPORT!
Versatility and Comfort: Why a Linen Nursing Pillow Cover Is a Must-Have for Your Boppy Bare Naked Pillow
Introduction:
When it comes to baby essentials, a nursing pillow ranks high on the list for new moms. The most popular is the Boppy Bare Naked Pillow, known for its versatility and comfort. However, to take your nursing experience to the next level, consider the incredible benefits of pairing it with a linen nursing pillow cover. Here we'll explore the many uses of the Boppy nursing pillow & why linen is the best choice for covering your nursing pillow.
How to Use a Nursing Pillow:
Breastfeeding Support The primary function of a Boppy nursing pillow is to provide ergonomic support while breastfeeding. It helps lift your baby to the right height, reducing strain on your arms and shoulders.
Bottle Feeding Boppy nursing pillows aren't just for breastfeeding. They're equally valuable for parents who choose to bottle-feed.
Tummy Time Encouraging tummy time is crucial for your baby's development. Placing your little one on your Boppy nursing pillow provides them with a comfy, propped surface to practice lifting their head and strengthening neck muscles.
Lounging and Playtime As baby grows, the Boppy pillow becomes an excellent spot for adult supervised awake time. Its soft, supportive surface creates a cozy space for your little one to explore.
Pregnancy Support Boppy nursing pillows aren't exclusively for post-birth use. During pregnancy, they can provide much-needed support for your back, belly, and legs, helping you find a comfortable sleeping position.

Why Choose Linen for Your Nursing Pillow Cover:
Breathability Linen is known for its exceptional breathability. This natural fiber cover wicks moisture away from your baby's skin, ensuring they stay cool and comfortable, even on warm days.
Durability Linen is renowned for its durability. It can withstand repeated washings, which is essential for a nursing pillow cover that's likely to encounter spills and stains.
Hypoallergenic Linen is hypoallergenic, making it an ideal cover choice for sensitive baby skin. A linen pillow cover is less likely to irritated super sensitive new baby skin.
A Perfect Fit Linen is timeless & with a selection of many colors to choose from our covers complement any nursery or home decor.
Eco-Friendly Linen is a sustainable and eco-friendly choice. It's biodegradable and requires fewer resources to produce than many other fabrics, aligning with environmentally conscious parenting.

Where to buy a linen nursing pillow cover?
Since 2012, Madly Wish has offered a variety of nursing pillow covers for your nursery. A MW nursing pillow cover is made to last. In fact, one Madly Wish nursing pillow cover is likely the only one you'll ever need; as many of our customers use the same cover with 2, 3 and even 4 babies. Choose from 8 current colors, our covers are designed to offer a perfect fit on the original nursing pillow. We know you'll find the perfect cover for any aesthetic.
Conclusion:
A nursing pillow is one of the must-have products for new parents, offering support during feeding time, tummy time, play, and pregnancy. Pairing your Boppy Nursing Pillow with a linen nursing pillow cover takes comfort to new heights. The many health benefits of linen make it the perfect choice for a pillow cover that will serve you well throughout your parenting journey. Order yours and enjoy every moment of these precious early years with unparalleled comfort & style.